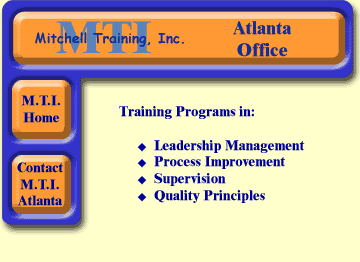 We Are:

Mitchell Training, Inc.


We provide services for organizations 
and businesses in training and consulting.
To learn about the company, visit "Who
We Are" and return via the link provided.

Organizational training programs include various 
aspects of successful organizational and workplace
issues.  These issues range from top management 
skills and theories to employee skills.  Included are 
activities which vary according to the type of issues 
needed.  

Courses and activities may include such topics as:

- Theoretical and Practical Management             
- Quality Environment                
- Employee Relations
- Process Improvement                                           
- Workplace Skills                     
- Front-Line Supervision
- Customer Service                                                   
- Policies and Procedures
To Schedule:
All scheduling is done through personal contact and negotiation between Mitchell Training and the organization. Thorough discussion of Needs will precede all scheduled activities and training sessions, assuring that the most revelant topics and activities are included in the sessions.
Contacting the office through the form provided will initiate the process and result in the most productive program for your organization.